Welcome, Class of 2019-2020!
Welcome to our new Film Class of 2019-2020! They look pretty stoked to be tearing some muscle on the day all Valencia Alumni and Staff remember to be the infamous "C-stand day." The day where sweat, tears, and soreness befall on a whole new class of eager future filmmakers. Going strong with a total number of 63 students this year, we're excited to see what this class brings to the table! Settle in, but don't get too comfortable - the fun is just beginning!
Congratulations, Class of 18-19! - July 2019
All good things must come to an end. Valencia Film Class of 18-19 had quite an adventurous year. To close this amazing chapter in their film school journey, our students were treated to a Valencia Alumni panel of established film professionals within the industry. The words of advice and wisdom towards these students was priceless. The panel included Gordy Jorian, Cherry Cuevas, Courtney Clark, EJ Bernard, and Alex Castillo. Congratulations, kiddos! We hope you find much success in the world of film and entertainment! Good luck, class of 18-19!
Missy's Musical Misadventure
June 2019
After her wish comes true, Missy learns that turning her mundane world into a film musical would ultimately lead to disastrous results.
Missy's Musical Misadventure was one of the six short films picked to be produced and filmed for the Film class of 2015-16. Alumnus Gerald Jackson, Jr. directed this whimsical comedy while our very own Teaching Assistant for Grip and Electric, Luis Poggi, served as Producer. Other alumni like Amy Austin served as Director of Photography, Harrison Thevenin as Sound Mixer, and others like Sierra Goins and our very own Wilmore Fowler, participated in the film as dancing extras.
Filled with heart-warming humor and spontaneous dancing, Missy's Musical Misadventure collaborated with Full Sail University - filming some of its musical numbers in its back lots. This hit independent film short is now a finalist in Amazon's "All Voices" Film Festival.
If you have Amazon Prime, you can watch the short film here!
Uncivil Seizure - June 2019
Kicking off a busy summer with our first Short Film/Project! Produced by adjunct professor and filmmaker Bruce Wood, Uncivil Seizure follows the aftermath of a heist. One of our most dialogue-heavy shorts, Uncivil Seizure was filmed almost entirely in-house, on Valencia's Sound Stage and with over 20 students from the 2018-19 program.
May 2019
Finishing off the Spring Semester with a bang! Adjunct professors, Jon Anderson and Joe Stone, teach an Advanced Art workshop. Piggy backing off the principles from their Art Workshop from earlier in the semester, students get to practice these skills by dressing a "Motel" set. Using theatre flats to encompass the room, and adorning the set with real furniture, students learn how to breakdown a script to accurately portray a character's surroundings and most intimate details in his life to convey it visually on set. The set is a prototype, near completion.
24th ANNUAL FILM CELEBRATION
On April 13th, the 2018-19 class pulled off a successful event: the 24th Annual Film Celebration. Over 200 people attended the day-long, Blade Runner-themed event, and over $4k was raised for our students' Summer shorts. The Celebration premiered the short films of last year's class, and, for the first time ever, featured some cool, student-taught workshops, including: Adjusting the Focus, in which attendees learned the role of the 1st Assistant Camera on a professional set, Lights, Camera, Slate!, where attendees learned the purpose of the "clapperboard" before a scene begins, and Boom, Boom Operator, where attendees learned to capture crisp, and clear audio using professional sound equipment. Along with the workshops and films, audiences enjoyed their time drinking, eating, walking down the red carpet, taking awesome (and embarrassing) pictures, meeting old friends, and even donating to Homeless Harry. Cheers to another successful Celebration! Twenty-four-years strong and looking forward to more!
April 2019
We would like to congratulate our Alumni and recent students who just wrapped the Miami unit on the set of Bad Boys 3. We enjoy seeing our students applying skills and techniques learned in the classroom professionally in the field. Bad Boys 3, tentatively titled 'Bad Boys For Life', was shooting in Miami over the last 2 weeks and will spend around $10 million by the end of their time shooting in South Florida. The movie is set to release in January of 2020. We're so glad to see these movies filming here in Florida again.
March 2019
"Mind The Gap" Writer and Director Ilana Marks holds a local sold out premiere Thursday, March 21st. This film stars Erin Beute who was on "The Vampire Diaries" and Tanya Christiansen, a Sarasota based actress who was in "The Hate U Give". "Mind The Gap". is a psychological comedy about an off-Broadway actress whose life begins to unravel when her husband leaves her. It was made with the help of the Valencia Film Program Students from 2015 and alumni when they shot locally in Orlando.
Wonderland: Mad Tales of the Hatter

March 2019
Last month, dozens of Valencia students from the 2018-19 year worked on a commercial for the Orlando Ballet's April 2019 Premiere of Arcadian Broad's Wonderland: Mad Tales of the Hatter. The ballet show follows the titular character, Mad Hatter, in his quest to save Alice from the Red Queen after having been banished from Wonderland and stranded in 1920s London. The commercial was filmed through Purple Anchor Films LLC, a multifaceted Production Company founded by Valencia Alumni Stephanie Pons and Freddie Aponte. Because of their dedication to this theater, Purple Anchor is now officially the Orlando Ballet's exclusive partner in Commercial and Video work. This whimsical, colorful, and technically matchless project couldn't have been completed without the hard work of a dedicated group of filmmakers.
Follow the Orlando Ballet's website here for more info on this performance. Also, checkout this project's behind-the-scenes time lapse video here.
Image Credit: Shane Jewell
February 2019
On February 17th, over 450 people made their way to the AMC Altamonte Springs Theater to watch the Valencia and 89 Media Produced short film "Courage to Stand." Courage to Stand was filmed last Spring with the 2017-18 Film Class on Valencia Campus. Over thirty students and alumni worked on the film, including 2016-17 alumnus Ed Love, who produced the Faith-Based Film. The story centers on Bryan, a young college student taking a class on Evolutionary Sciences with an intimidating professor who challenges his Christian faith. A champion for the importance of Apologetics, Courage to Stand will make you ask not only what you believe, but why you believe it.
Check out the trailer here.
Film Sound and Art of Cinematography
January 2019
Spring semester is here! That means program is gearing up with awesome classes and more productions. For the second year in a row alumnus and local Sound Mixer Harryson Thevenin has taught over fifty students each semester the secrets to capturing "intelligible audio." Cinematographer, Paul Mayne teaches the Art of Cinematography where students are immersed in the advanced concepts of camera and lighting.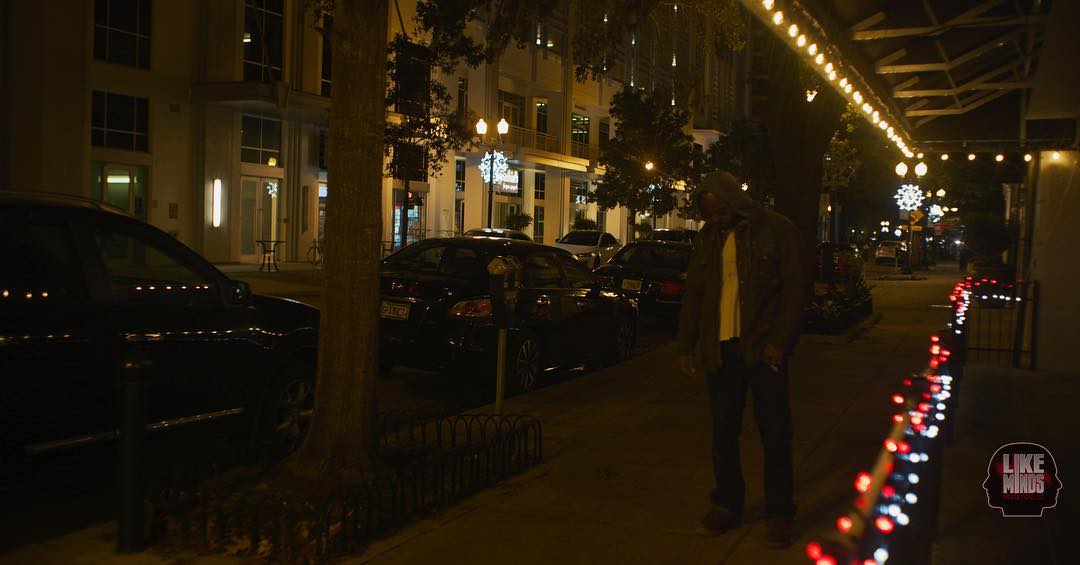 December 2018
Over twenty students from the 2018-19 class participated in the short film titled Fragile Like Concrete; Written and Directed by Filmmaker Travis Hadley. This film was shot by Valencia Alumnus Stephanie Pons. A drama centered around a drug addict, Peter, and his quest to seek revenge on those who attacked him. With the assistance of his childhood friend, Titus, Pete forges a plan of vengeance. However, unresolved issues between the two bubble to the surface.
For more information on this tear-jerking short, visit its Facebook and IMDb pages.
December 2018
Our students participated in a short film titled Seed Money, Directed by Bruce Wood. A retelling of Aesop's Fables. "Seed Money," is a short film about a stock car racer who struggles to save his farm after a foolish decision lands him in jail.
23rd Annual Film Celebration
The 23rd Annual Valencia Film Celebration experienced two amazing nights in February 2018 when each night reached Sold Out status. The Celebration was a chance for students to raise funds for their projects by showcasing Valencia student filmed shorts and Valencia Produced Features, such as Frank vs. God and Mind The Gap. The 2017-2018 Class was able to raise over $3,000 in funds for their projects. These projects are scheduled to premiere in our 24th Annual Valencia Film Celebration on April 13th, 2019. For more information, check out our website here.
Valencia alumnus wins Best Documentary award in Festival
W.A.S.P - A Wartime Experiment in WoManpower, produced by The Valencia Film Program and Rachel Becker Wright, won the coveted Audience Choice Award for Best Documentary at the 2018 Tallahassee Film Festival. The Jon Anderson directed film showcases the incredible history of the brave woman pilots who served during World War II. For more information and to view the trailer, visit the W.A.S.P. Facebook page or the W.A.S.P. website.